L
ittle Sis aka LS is a funny creature. She is the kind you would like to have at the other table at the fancy restaurant. The kind who will stick her tongue out at you, climb up and down the high chair, throw forks around, throw folks around and make you silently gloat on your own parenting skills. When she starts yelling you can pay your tip and leave.
I cannot leave however. I am the Mother. I have to grab her by the nape while I shovel Pad Thai down mine. I have to constantly remind her that throwing a plate(
thankfully it was a copper or some metallic kind
) around is not acceptable behavior, that she cannot pull tablecloths or poke ac vents.
People@Home think I am too soft with her. But trust me I am not. Ok, maybe I have lost the steam to discipline since Big Sis aka BS but even then I am not soft. It is just that LS is like that, naughty and funny and always on her toes.
Now BS is the quieter one, she doesn't scold her little sis when LS shouts "My Turn" ever so often, doesn't utter a word when LS takes away her crayons, lets her lick her ice cream and only sometimes complains that LS scratched her arms.
LS never complains. If needed she throws herself on the floor albeit carefully and expresses her anger. She plays mostly with BS's friends and uses her limited English editions of "Hello", "How are You Doing", "No, don't" and "My Turn". After that she just continues in Bengali. She figures her way around them, relying totally on BS for help and ignoring any grown up interference.
A couple months back when we were at Orlando, she shook hands with Mickey and told him a lot of stuff including "Hello", "How are you doing". Unfortunately Mickey did not understand a word. Since then she has a Mickey fixation. So she is the kid you can hear yelling "Mickey", "Mickey" at the library or the mall or anywhere the familiar mouse is visible.
She is the one with parents sporting an embarrassed look.
Next time when you hear a kid in the flight protesting to wear the sea belt, when you see a kid who is practicing target with forks and peas at the restaurant, when you hear a kid whose excited voice drowns the silence in the library please, please
DO NOT
blame the parents.
Think of LS. Some kids are "
like that wonly
".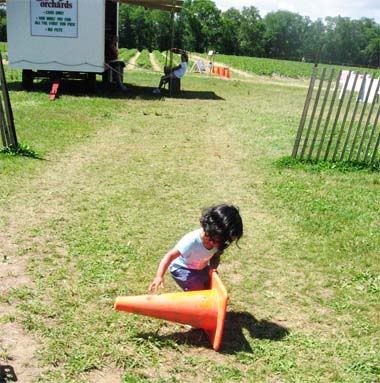 Now to the
Dal cooked with a bunch of beet greens
. This again is my Ma's dish. Since we usually get a bunch of beet for LS, Ma uses the greens in this Dal and it has become a family favorite. You can work around with the spices and the type of Dal. I have always, always cooked this with only Masoor--Red Lentils but I have a hunch that this will go beautifully with Toor too.
Read more...







Dal with Beet Greens



Wash and cook

Masoor Dal

(Red Lentils) with enough water and little

turmeric

. I usually do it in the pressure cooker. I had about

4 cups of Cooked Dal

. My dal was cooked rather thick, usually it should be more liquid.

Chop the

Beet Greens

. I had one bunch of it.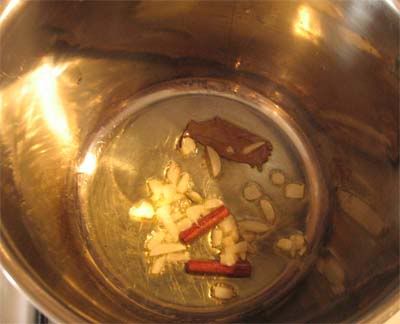 Heat

3-4 tsp of Oil

in a heavy bottomed pan. Temper the oil with

1 small Bay Leaf, 4 cardamom, 4 clove and 1" thin stick of cinnamon






Add

2 cloves of garlic finely minced

, followed soon by almost

1 &1/2 -- 2 cups of chopped onion

. Fry the onion till it is soft and translucent.




Add the

chopped Beet Greens

. Fry the greens till there is no raw smell of the greens. If they tend to stick to the bottom of the pan, sprinkle water and scrape and fry.




Add about

1/4 tsp of Garam Masala

powder if you wish and

1 more tsp of oil

. Fry for couple more minutes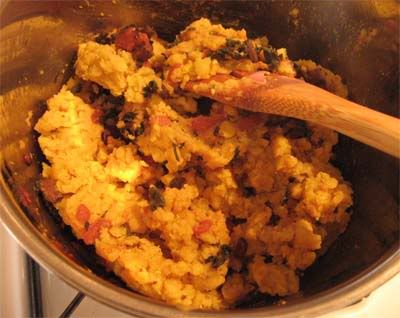 Now add the

cooked dal

. Do this gradually, sauteing the dal along with the greens so that they mix thoroughly

Now add

water about 3-4 cups

of it. Add

salt

and

sugar

to taste. Add

chili powder to taste

. Let the Dal simmer till it comes to a boil. Mix thoroughly. Switch off and squeeze a

quarter lime juice

into the Dal. Serve with rice or Roti or just by itself.