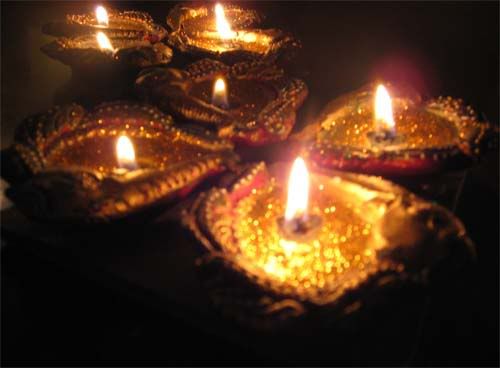 It seems every week I surface only to wish someone something. This week I holler
Happy Deepavali.
Life has been extremely busy since we got back.The littlest one has a new fresh bout of separation anxiety which makes it extremely difficult for me to rush out to work, to cook, take a shower. Yes, I haven't taken a shower for the last 3 days. Ok, scratch that. It is not entirely true.
Once home all my time is for the girls until after 9. And while before I would sit down after that to do anything blog related, now I just huddle with the
Bangla
books I got back from my recent visit. There is a sinful pleasure in huddling on the corner couch with a book on a winter night while flames dance in the fireplace. The guilt of not cooking, not making anything special for Diwali slithers in the shadow and I bravely ignore it. There is a whole lot of pleasure in not cooking for Diwali as long as you can scavenge goodies to eat, trust me.
Choddo Prodip(14 candles) to be lit on the day before Kali Pujo on Choti Diwali
Occasionally I look through the comments on my last post, the
beautiful comments on forgotten food
. Thanks Everyone, those comments were the most beautiful words on food I have ever read.
It seems it is not always about the food, it is about that exact person who made it, the memory we carry with it. That was the recurrent theme in most of the forgotten food that readers mentioned.
Brat Payal talks about, "
Dadi's aloo chips and aloo papads and sweet whole aamla achar!! She would slice the potatoes up patiently and meticulously, sun dry them in the verandah, we were incharge of manning the drying chips and papadums...shooing the drooling birds and turning the chips over...one by one! I miss miss those...can we bring back the unforgotten human behind these forgotten dishes...:)
"
Really, would it be the same if you slogged and made them instead of Dadi, maybe not.
Sonal's Aaji made home made
Supari
, "
As a child I remember every summer Aaji would make a huge trip to a specific store to purchase ingredients like betel nut, aniseed, dried ginger, licorice, rock sugar and many many exotic spices. These would be sun dried for a few days on our terrace and then crushed on an iron khalbatta(mortar & pestle) by one of her trusted aides. The final SUPARI would be bottled in glass jars and distributed to family members near and far away. You never left home without a jar of Aaji's famous SUPARI. It was like a good luck charm from her……
"
Sometimes a food is forgotten because it is easier to lament about it than cook and serve it. How much effort is not too much effort to re-create such a dish ?
Eves Lung mentions "
Chapor Ghonto
" --
made with chholar daal bora , thhor ( the stalk of the banana plant ) and assorted veggies like brinjals,potol,etc with a phoron of with methi , red chillies ,randhuni and ginger paste .And a small bay leaf.
On my recent visit I ate lot of the Bengali foods that is never cooked at my home. It is not that I have forgotten them, it is just that I have never taken the pain to know how to make them, it takes too much of an effort and they don't get made.
This time my Ma and Ma-in-law made
Mochar Ghonto, Thor, Chapri diye Mocha, Taal er Bora, Dhokar Dalna
and what not. No, whatnot is not a dish.They made it with an ease I can never muster. I don't think I will ever make
Mochar Ghonto
or
Taal er bora
at home. Naaah, too much effort I will say. And thus slowly, gradually such food will be forgotten by the next generation or the next.
As Manasi says
Puran Poli
, "
This is not forgotten, but never made at home because it is time consuming and so I'd like to bring back Puran Poli ( I have learnt it, but not perfected)just the way my grandmother used to make"
At times a food is forgotten because it is too simple. The sabzi that your Ma made with Roti everyday, the jhol that you loved to hate and sweared never to cook as an adult. This is the easiest category to bring back.
Satrupa talks about
"
Santula
" -- "There is nothing fancy about this dish and may be that's the reason I happily forgot it.Vegetables are cooked with little water, salt and turmeric powder in a pressure cooker. Then it is seasoned with panch phoran and garlic. It is an everyday diet and we usually we have it with roti. But now I would luv having it any day ...
"
Maninas talks about "
Fried Bread Dough
", "
Which food would I like back in my family? My mum used to fry some bread dough in oil (looking a little like naan), which we had with sugar, or jam, or some savouries. It was delish!"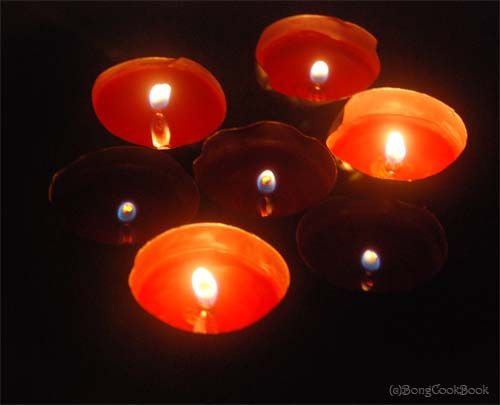 And now about the
Give Away
. I picked up a random winner using the Random Number Generator at Random.org .
Drumrolls for the winner is Indosungod. Indo, Please send me a mail with your choice and I will have it shipped.
Because it is Diwali, I decided to give one more gift of $10 Amazon gift card. And this time the winner picked up was Shruti who said "mocha'r ghonto". I am not sure if Shruti blogs. Shruti send me a mail at sandeepa( dot )blog(at)gmail(dot)com and I will send you the gift card.
Related Posts:
To read more on forgotten food go through the wonderful comments of
this post
.
Check out
specialty food items
at Food Spring