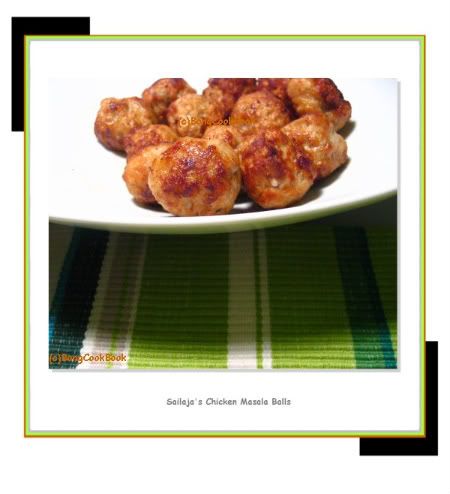 I
do not get the opportunity to leaf through many cookbooks to decide "What's for dinner" or "lunch" or "snack". Not that I don't want to but simply because I don't get time. While coming to US I had packed two Bengali Recipe Books written in Bengali with me. One of them doesn't have great collection of food but I loved the author,
Leela Majumdar
, and her all other Literary works, so had to buy it. The other is a very ordinary looking book, no glossy pages, nor any nice pictures, no glam-sham that is, but has a very good collection of Bengali Recipes. Albeit this book is like me & Ma, it doesn't give any measurements, just the ingredient list and a general way to prepare, it has most of the Bangla Recipes I have ever heard of. Bengali Cook Books written in Bangla were not much in vogue in those days .Recently some very good cook books for Bengali recipes have been published but most of them are in English.
My Ma would mostly cook recipes she had gathered from her mother, from relatives, friends and from magazines which were a veritable source of good recipes
Me on the other rely a lot on the internet (other than Ma, friends & THE magazines) for recipes. It's easy, fast and convenient. So no wonder when I chanced upon food blogs I was delighted. What with their glossy design, beautiful pictures and all the traditions and tips thrown in they are better than any cook book for me.
At this point I need to narrate a funny incident. My daughter, who is in the "pretend play" stage, is extremely imaginative and goes on "Imagine, Imagine" all day. So a couple of nights back she was sitting on my parent's bed and planning a B'day party for her two dollies.
So my Dad said "What are you going to cook"
She says "Chole & Chicken and Bhatu (Rice)"
My Dad says "Ok, so ask your Mommy for the recipes"
She very confidently "
Nah Ami nijei commen e dekhe nebo
(No, I will look it up in the computer myself)" and with that she opened her "imagine" laptop with a real flick of the wrist
This shows how much I scour the net for recipes, even if I don't cook them I love reading them
Sailaja's food blog -- SailusFood
is a wonderful place to be, her neat layout, the succinct steps and the crisp pictures give an idea as to what to expect of the dish. The moment I saw the "
Chicken Masala Balls
" in her recipe I knew all of my family and friends would love it and boy did they. Now it has become a kind of regular at my home. But since I make it so often I try not to fry it every time, though the fried ones taste the best. Thanks Sailaja for this wonderful recipe and many more that I am going to blog soon. So here's my entry for this months
MBP
February
--
Chicken masala balls from SailusFood.
Thanks again to both Sailaja for this recipe and Coffee for hosting this wonderful event.

For the fear that soon Sailaja will get famous and her agent might restrict access to her blog I am jotting down the ingredients and the steps I follow here.
You don't need go any further but check out her
Original Recipe
here. Her steps and picture are way better
Read more...



Sailaja's Chicken Masala Balls



What You Need

Ground Chicken ~ 1lb



Make a wet masala paste with the following



Onion ~ 1 medium
Green chillis ~ 8-10
Corriander leaves ~ small bunch chopped

Garlic ~ 15-20 cloves
Ginger ~ 3" piece chopped



Dry roast and grind the following

to make a dry masala powder



5-6 dry red chillis (adjust according to your choice)
Corriander seeds ~ 4 tbsps
Cumin Seeds ~ 1 1/2 tbsps
Cinnamon ~ 2″ stick
Cardamom ~ 3
Cloves ~ 5-6
Cashewnuts ~ 10-20

Salt
Oil for deep frying


How I Do It



T

hough Sailaja asked to roast the dry spices in oil and then blend, I dry roast them and grind them in my dry grinder. The dry powder I store for future purposes too.


I

use minced chicken and so I mix the

dry powder

, the

wet masala

and a

little yogurt

with the minced chicken and keep it for sometime, say a couple of hours and sometimes overnight


T

hen I make balls exactly as she does.


D

eep Fry them and serve them as starters when we have friends over and they cannot stop eating


I

also bake these balls for weeknight dinners. Spray the baking pan with Oil and bake them at 350F till they are lightly browned and done. Tastes yummy with Rotis and by themselves.

Note: Following is the baked version. I had less corriander leaves so the balls look a little less green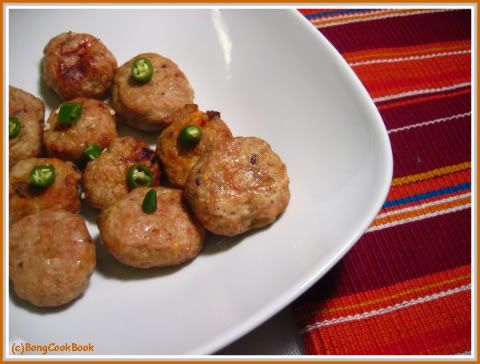 Trivia: Masalas are spices and other seasoning ground together to form the basis for Indian sauces