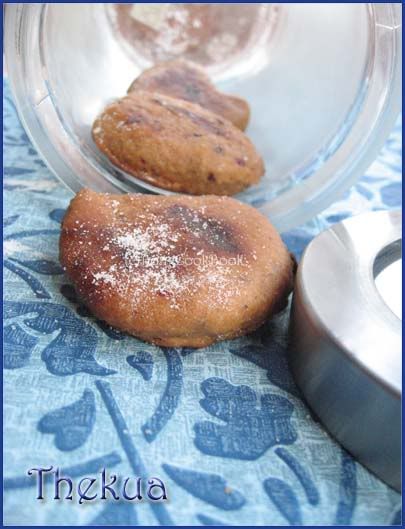 I
mmigrant mothers in a different country amidst a different culture have it hard, they are a confused lot. They are
most confused around festival time
. They do not know which to celebrate, which to shun, which one to just participate and which one to immerse one selves in.
There is the stuff that she has grown up with, the ones that gave her immense joy, she wants to be bonded with her children through them. She wants to share with her daughter the same thread of excitement that she once did with her own Mother over scouring and then lighting brass lamps for diwali.
But then she doesn't want to completely let go off the new festivals in the new country either. She has grown to
like Halloween, the way it ushers in fall, the bright orange color of the pumpkin
bringing warmth on an otherwise cold porch. She likes that it stretches her Indian festival month by a few more days, that there is something to look forward to even after the Diwali lamps have died out and Bhai Phota sweets are forgotten. And yet her thrifty logical mind does not acquiesce to spend so much money on flimsy "made in china" costumes that lose their utility beyond one single day.
After 3 years of worthless but pretty Halloween costumes, she wants to give them a miss this year. "What about being an Indian princess ?" she asks her daughter. The daughter who had fallen in this trap 3 years back is still gullible. The little girl is excited at the prospect of wearing the Anarkali churidar her aunt has sent from India for her upcoming birthday. "I will get you a crown and some jewellery and you will look like a real princess", the Mom tells her. The daughter is happy, it doesn't matter, she doesn't like spooky yet and "Halloween Express" eludes her.
Later
the mother asks, "Which festival do you like best"
, secretly hoping for the answer to be Durga Pujo. "Halloween" she hears, "because it means lots of candies" continues the little voice. The choice has been made or maybe not.
What the future holds, we shall see. Till then there was
a princess, a frog turned into last-minute flower and two un-carved pumpkins on the porch
.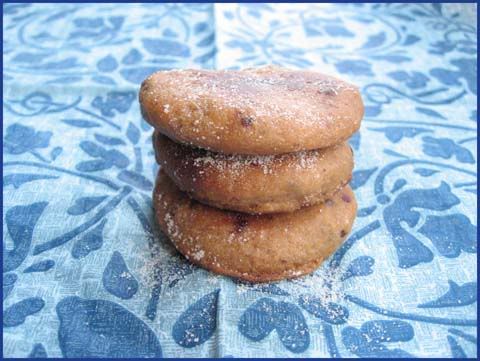 My Ma was
not confused
. Though she brought us up in a different culture, same country, she only followed what she was comfortable with. She didn't go hyper and try to do everything. We participated in the new, on the fringe and that was it.
So though we were invited for
Chhath Puja
, we never did it at home. We were at banks of the river Ganges observing the devotees and enjoying the rituals without feeling the stress ourselves. All the Thekuas that we loved, we had in our neighbor's home. We maintained a silent respect for all our neighbors who followed stringent rules in sanctity to make Thekuas for the Puja and never tried to re-create them at home.
I don't know why I wanted to have
Thekua
after all these years and went going back and forth
this post
&
this
. Too much ghee, can't do it, I reasoned. Then I saw
Sharmila's Cookies
and something went *Ping* in my brain. Why the thekuas were almost similar like her cookies with little differences. So I made them,
no ghee, dry fruits and raisins within, spiced up by few fennel seeds and then baked, no frying
. We loved them, earthy, lightly sweet, they reminded you of the soil, of your beginnings. Fried they would have been better.
I am not sure if those one time neighbors would have approved. Maybe they would say "
Ee to phoren ka thekua hai
"(This is a foreign thekua). You can call them
whole wheat cookies
if you wish.
Read more...






Thekua or Whole Wheat Cookies


Makes about 10-12 thekuas
Measurements are eyeballed

In a bowl mix with your fingers

1 cup of whole wheat flour, 1-2 tbsp of Oil/Ghee, a pinch of baking powder, 5-6 tbsp of agave nectar/honey, some fennel seeds, 1/4 tsp of ground cardamom powder

.

Note

:

If you want replace honey/agave nectar with sugar or jaggery. Also adjust the measures according to your sweet level.



Add some

chopped raisins/cranberry/dried apricot

.

Gradually pour

approx. 1/2 cup of milk

and work the flour with your hands to

make a dough like the chapati dough

. Adjust the milk accordingly. The dough should be stiff and not stick to your fingers.

Pat the dough with your hands in a flat thick-ish circle. Cut out circles with a cookie cutter or with a bottle lid. You need to imprint them using a mold, I had none so they remained plain.

Put them on a greased baking tray. Brush them with some oil/ghee.

Bake at

375F for 25-30 mins till they are nicely browned

. These were my toaster oven settings, so the time may vary. Alternately deep fry them in aromatic ghee.

Cool on the rack and store in an air tight container.

If they are not enough sweet, sprinkle some sugar on them.