T
oday I will be very honest with you, bare soul honest. A decade back I was not interested in cooking, at all. All that bovine poop about "
smell of jeera bringing me solace
" that I have in my
About
section, was well "bovine poop" to me. I never even dreamt that cooking could actually be therapeutic. Now eating was another genre altogether, that I loved. I sincerely believed Eating good was not only therapeutic but also pushed you closer to that non-attainable Nirvana.
It is not that I didn't know how to cook, I knew the basic dal,
bhaat
,
macher jhol
and also noodles and chili chicken. I did help my Mom to some extent around the kitchen but that was in fits and start and I
wasn't one of those prodigies
who bake cake at age 8 and biryani at age 12.Relatives in their right mind didn't often ask me to help out in the kitchen, for that I had that "prodigy cousin".
I started cooking for survival, once I moved out to
my first job in Bombay
. After a month of eating out, me and my room mate got a cute red clix stove and decided to venture out in the hitherto unknown land of homecooking. My room mate was worse than me, she claimed "she had never cooked before". So with my minimal repertoire, I started and every evening cooked either an egg curry or dal while roomy made rice.
There are
mythical tales
of my cooking from those days, which will make a nice story for a future post and so we shall hold onto them for now..
D, the husband
on the other hand was a
cooking geek
, a freak of nature, the kind who chop vegetables in equi dimension and whose eggs boil just right each time, every time. He is and always was like
Alton Brown (strictly cooking wise)
, very much into the techniques and science of cooking.
So while I was trying out new dunking techniques(another story !!!) in Mumbai and trying to cook with passion, he was creating a new following 998km away in another city. He was the
self appointed chef of cooking morons
who thought he was the domestic diva, just because he could make the perfect omlette and delicious chicken curry. I hope those morons learned survival skills on the way or got beaten up by their wife in later life.
Anyway to impress such people, this guy, the now husband twisted old recipes and created new dishes. One of them was
Palak Burji
, a
spinach stir fried with eggs
. This dish impressed me so much, that I decided to marry him and wrapped up my belongings and moved the 998km distance. Ok actually not this dish exactly but my cooking skills were so short of my own aspirations, that I was ready to marry any decent willing guy who would happily cook a good meal and clean up after that every evening and still maintain a decent paying day job.
That such "
eagerness to cook & clean do not last forever
" and "grass on the other side is always greener" and "people in glass houses...." is another proverb but who am I to complain, there is always
Palak Burji
aka
Dim diye Palang Shaak
and a guy who occasionally cooks and loads the dishwasher every night.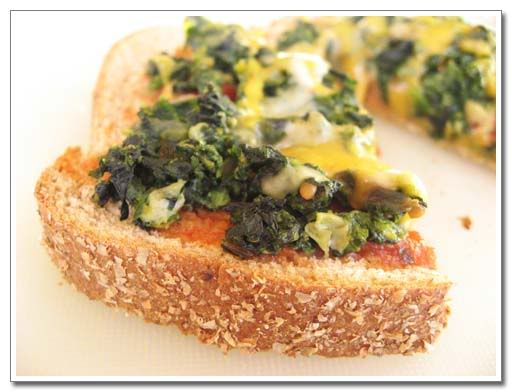 Egg-Palak Burji on toast for fussy 6 year olds
This
Egg-Palak Burji
is a very simple, yet excellent dish, too simple if you have frozen spinach 'coz that is the only way I have done this. If you leave the egg out, it is my Ma's plain old
palang shak bhaja
but she never had frozen spinach and she could also chop her spinach really really fine. So if you don't have frozen chopped spinach but can chop your spinach real fine you are good to go else pressure cook your spinach and coarsely mash it up before proceeding.
Read more...




Egg Palak Burji



Cook

3 cups of frozen chopped spinach

in microwave for a minute or two. When the green is cool to touch, squeeze out any excess water.

Note

: I

f you don't have frozen spinach, you can use fresh spinach chopped really fine. Or you can cook the spinach in pressure cooker and mash it up coarsely



Heat

Oil

in a saute pan

Temper with

1/4 tsp of Paanch Phoron



When the spices start dancing around, add

2 cloves of garlic minced, 2 slit green chilli

and

quarter of a red onion chopped fine



Saute till the onion is brownish pink

Add the

spinach

and saute till spinach is no longer releasing water and is cooked.

Note

:

With frozen spinach and microwaving this step is like almost pre-done. With fresh spinach which has been cooked in pressure cooker and mashed up, it might take a while for water to dry up



Move the spinach to the edges and add a little more oil to the same pan

Break an

egg (or two)

into it and vigorously stir till

egg is scrambled up



Add

salt

to taste and combine to bring in all the flavors.

This goes excellently with some hand mate Rotis or Phulkas. I love it with Rice. For fussy 6 year olds, put it on a toast and garnish with some cheese.