S
almon Leather is the next big thing in Luxury design. Don't turn up your nose, for its exotic, expensive and making waves. It is supposed to be Eco-friendly, because it is the ultimate in
waste reclamation
. Salmon leather is made from a part of the fish which is usually discarded, so the raw material here is basically a waste product.(
More
here
)
If this intrigues you and you want to be a part of the fishy fashion scene request your sample here at
Nanai
.
Today I did not cook salmon, but you can if you wish. Instead I made
Rui Maach er Dum Pukht
.
There are two things about this dish.
First, it
is delicious
. I have made this dish for 3 times now and unlike me , all the three times I stuck to the recipe and all 3 times it has turned out to be oh so delicious. Trust me, each morsel of this gravy mixed with rice is pure pleasure. The gravy is rich and yet not heavy. The flavor of the fried onions lends a sweetness that flits through your palate. The cashews lend a creaminess that you wouldn't think you could achieve with so little effort.
The recipe in itself is very simple and straightforward. I have so far used only
Rui Maach
, the
sweet water Rohu
that I get from my Bangladeshi fish seller. But I have a hunch that it will work well with salmon, only thing is
with salmon I would spice it up
and broil the fish pieces like I did
here
. I got this wonderful recipe from
Kaberi's Kitchen
and she herself has also done it only with Rohu so far.
Second, though the name says DumPukht this is
NO Dum Pukht
. DumPukht is a technique of slow oven cooking, that is cooking on very low flame, mostly in sealed containers, allowing the meats to cook, as much as possible, in their own juices and bone-marrow. As Kaberi herself says, the original recipe called for slow cooking but to avoid raw smell of fish she did it her way. I don't think fish needs a lot of slow cooking anyways and so of course I followed her way.
Read more...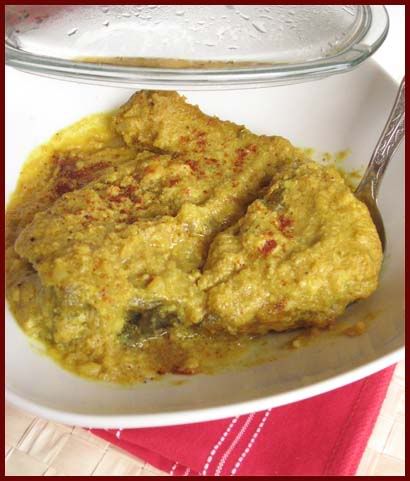 Rui Macher Dumpukht

What You Need



6-7 steak pieces of sweet water fish like Rohu or Buffalo Carp

Onion ~ 1 cup chopped
Ginger ~ 1"piece
Green Chili ~ 4
Cashew ~ 1/3 cup. I used broken cashews



Bay Leaf ~ 2 small
Dry Red Chili ~ 2 whole

Yogurt ~ 1/2 cup
Kashmiri Mirch or Paprika ~ 1/4 -- 1/2 tsp
Turmeric

Garam Masala ~ 1/4 tsp
Salt ~ to taste
Sugar ~ 1/4-1/2 tsp




Prepping the Fish



Wash the steak pieces of fish, clean and remove scales if needed. Marinate the fish pieces with little turmeric and salt and keep aside for 15-20 mins. Heat Oil in a Kadhai and shallow fry the fish till they are light golden with little browning on both sides



Making the Gravy



Fry

1 cup of chopped red onion

till soft and translucent.

Make a paste of


fried onion,


4 green chili,


1" ginger peeled and chopped,


1/3 cup of broken cashew

Heat

While Oil



Add

2 whole Dry Red chili

and

2 small(or 1 large) bay leaf



Add the paste. Add about

1/4 tsp of sugar

and fry the paste till you see oil separating out from the masala.

In a bowl

beat 1/2 cup of thick yogurt

to a smooth consistency. Add

1/2 tsp of Kashmiri Mirch or Paprika and 1/4 tsp of Turmeric

to it and mix well

Lower the heat and gradually add the yogurt to the pan. Do not add all yogurt at once . At low heat mix the yogurt with the masala paste and cook for a couple of minutes.

Add about

2/3 cup of water

and let the gravy simmer. Once the gravy comes to a boil slide in the fish pieces. Cook for a 2-3 minutes till gravy reduces to desired thickness. Sprinkle

1/4 tsp of Garam Masala

and gently mix. Cover and let it sit to integrate all the flavors.