B
S lost her very
first tooth
last week, last Wednesday to be precise. Major excitement ensued.More than the tooth, it was about the Tooth Fairy and the cash she would bring.
I had no clue that Tooth Fairies brought wads of dollar bills.
A shiny quarter was all I knew. Apparently I am wrong, as suggested by little neighbor girl.
The little neighbor girl has raised the bar pretty high saying Tooth Fairy got her thirty dollars. T-HIRT-Y DOLLARS for a baby tooth !!! What was
TTF(The Tooth Fairy)
thinking. I am guessing there is a scam going on and it might involve Goldman but really T-HIRT-Y Dollars ?
Since this was BS's very first tooth, I did not want her psychologically snubbed by TTF's bias and so she got Fifteen dollars from TTF next morning, crisp 5 dollar bills under her pillow.
Later I learned that little neighbor girl might have duped me. Tooth Fairy still gives out single dollar bills so there I am the stupid adult.
To quickly retract my sin of giving too much cash to a 6 year old I made BS buy ten dollar worth of craft supplies with that money and now BS is left with 5 dollars which she has promised to give to her Mom when the need arises. In fact BS thinks her Mom can become rich herself if she loses her own tooth too.
Before that happens her Mom decided to celebrate the occasion by making
Chingri Pakora
or
Shrimp Pakoda
. It did not matter that BS did not even want to take a bite, everyone else enjoyed it to the bits.
Update for Indo

: The toothless girl did not fancy pakodas on that particular day. She has her very own independent food ideas that change each day !!!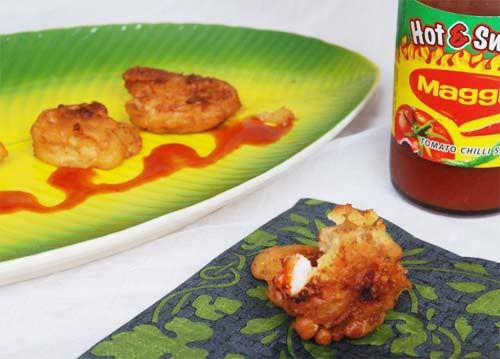 Fry some up, they are perfect on a rainy day with a steaming cuppa. Ok, they are good on any day and we will also serve it as a
bhaja
(something fried) to go with rice and dal. If you don't eat shrimp, don't lose heart, you can use
sliced paneer or mushroom
and they will taste as good.
Read more...







Chingri Pakoda -- Shrimp Pakoda





This recipe makes about 15-16 pakodis with 15-16 shrimp



Clean and de-vein

shrimp

. If using frozen defrost them. Remove shell and the tail. Toss the shrimp with

1/4 tsp of lime juice, 1/4 tsp of Roasted Cumin powder and salt

. You can also add a little garlic paste and Red Chili powder, I usually don't. Keep the shrimp marinated for 10-15 minutes. If shrimp is large in size, chop in bite size pieces and then marinate.

In a mixing bowl add



1 cup of Besan/Chickpea flour




a pinch of Baking Powder




1/4 tsp of Red Chili Powder




salt to taste


Add

3/4 cup--1 cup of water

gradually to above, mixing with a fork to make a smooth batter.



Note 1

: You can add a tsp of rice flour to the batter to make it more crispy


Note 2

: Sometimes I will add an egg to the batter. If you do that add less water.

To the batter add about

1/4 cup of finely chopped onions

and

2 green chili finely chopped(optional)

and mix well
This time I added

2 tbsp of crispy fried onions

(the kind you can put in biryani etc.) to the batter and it tasted heavenly

Heat enough

Oil for deep frying

in a kadhai. Test if the oil is hot enough by dropping a little batter into it.

Dip a

shrimp in the batter

so that it is well coated. With a tablespoon scoop the

shrimp along with some batter

and gently drop it in hot oil. At this point heat should be high-medium. After a minute reduce the heat to medium. When the pakoda starts turning golden at edges flip and fry the other side. Approx. it will take 2-3 mins on each side. This is enough for the shrimp to get cooked.


Note

: When you are doing several at a time, carefully separate each pakodis in the hot oil so that they do not lump together.

Once the

pakoda looks brown and crunchy

, remove with a slotted spoon and drain on paper towel

Sprinkle

Amchoor or Chaat masala

on the pakodis and serve with a Hot & Sweet Ketchup