I
t is still summer vacation time around here. 2 and half weeks more to go, almost 3 for many. The first half of the vacation BS spent in idyllic bliss with the grandparents being here. The second half Mommy is in charge and things are not so idyllic any more.
For one Mommy
is hyper and lazy
at the same time. Instead of judiciously spending her time making
alu parathas
for the kids or giving them a much needed oil massage, all she wants to do is projects. Mommy's modern parenting bible says
"doing projects with kids" ranks high up right after "say good job to your kids every 5 minutes"
. Mommy sure hated supervised projects in her own childhood but now wants BS to give up the idyllic nothingness for such ruthless acts. Thankfully for BS, her little Sis ensures that no project that involves gluing, cutting or even detailed coloring gets done while she is around. The remaining short ones that gets done BS loves them.
One of the things we have been doing recently is inspired by
Jaya and her little girl
. From her post I got the
Origami link
and it is the perfect thing to do even when LS is around. We have done
a Tulip
with stems, a fortune teller(remember "Color, Color, what color") and a Pelican so far, It is easy, fast and fun. We use paper around the house, BS colors them and voila there is some new thing after all the folding.
Next is something we started for my pure own selfish desire. I wanted some Ganesha motifs on my walls and I thought why not make BS do them. So I got these 8x10 canvas, some acrylic paint and self-stick rhinestones. I sketched geometric
Ganesha pattern
on the canvas and BS colored them in and stuck rhinestones. We have done only one so far. But we plan to do two more in diff colors. I will show you all three if and when they get done, keep your fingers crossed.
Note to new Moms:
Doing projects and saying Good Job in moderation is ok. Don't go overboard with them.
Now to the food which keeping in tune with my status this month is
quick, easy and simple
needing no more than 30 minutes of human involvement.
Since the day I started making
Kalyn's
Egg Muffins
they have jostled everyone out to be my first love on "no-time-what-do-we-have-for-dinner" days. Practically that would mean every day but if you have something every day they lose their charm and do not deserve the attention of a first love so I save them up for "
really-really-no-time
" days.
This time out of a sudden whim I
fried onions, tomatoes, mushrooms, green chilis
and made them the base for these muffins. They tasted so good that I thought to have them here lest I forget and never ever do the same again.
Note to myself:
"Please, please make them again this week. They were delicious".
Read more...
Kalyn's Original recipe with Eggs
My previous recipe with egg whites
Egg Muffins with Onion and Mushroom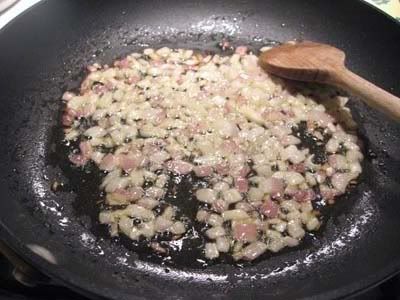 Heat Olive Oil and saute onions till soft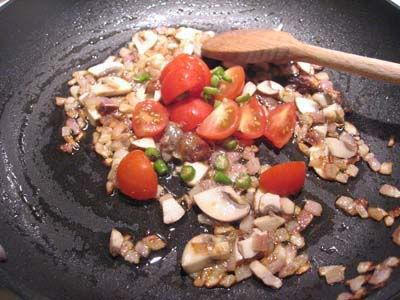 Add chopped tomatoes(cherry tomatoes in my case) and green chilli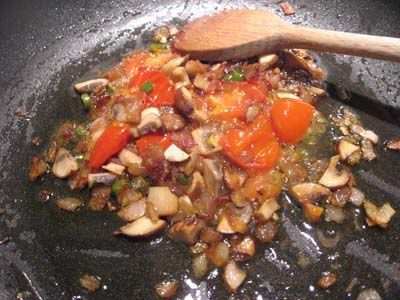 Add chopped mushroom(baby portabella in my case) and saute. Season with salt etc.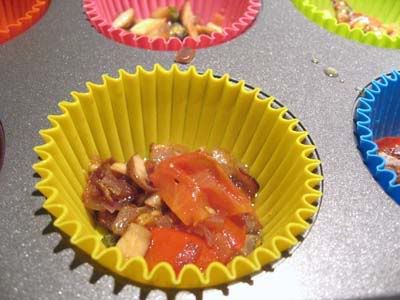 Scoop out the onion-mushroom mix and put it in each of your muffin pan. You can top with grated cheese if you wish.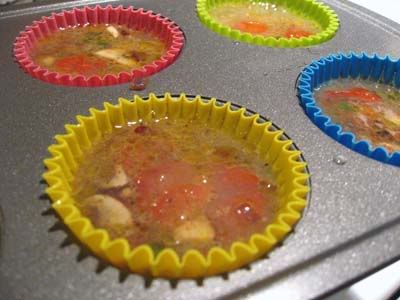 Beat eggs (egg whites only in my case). Season with salt, pepper, a tiny pinch of garam masala. Add it to each muffin pan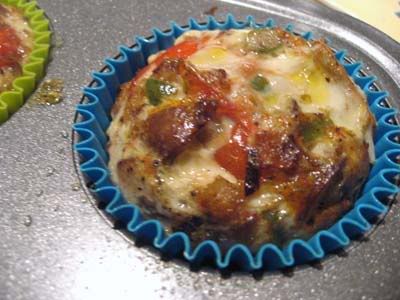 Bake till they rise. Eat them up quick.