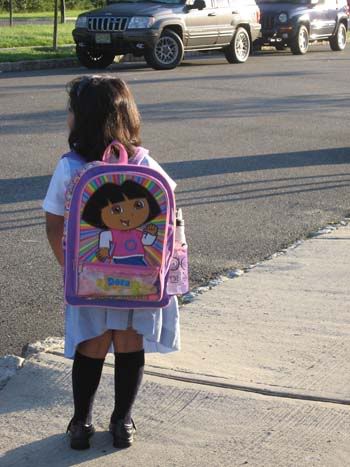 F
irst day of new school. Bus at 7:30. Too much excitement. Up since 4' in the morning.
Novelty wears off in two days time. Now
6:30 in the morning
on a weekday is not a good time to be at our home. There is
so much drama
that HBO would cower down in shame and the pimply Dish Network guy with the Indian name would never ever call me again saying "Auntie, we at dish network have a great deal".
Ever day and I really mean this, I intend to get up at dark and sneak out before even the clock says 6:30. I really don't want to get caught into the early morning melodrama. The Dad could handle this better I think, he has done this through the last 3 years of pre-school. But
to become the Saint Mom is my current short term career goal
, so I stay put.
I am up way before 6, cajoling and then shouting at the 5 year old to get up. I am chirping brightly about how the new school is going to be so much fun while the 5 year old clearly thinks otherwise. She misses her pre-school which was way more fun by her standard. I am trying to make b'fast interesting which she refuses to touch and thwarts my attempts at creative lunch making by asking me just pack a sandwich.
Going at this rate my sainthood is highly jeopardized, the Vatican will not even peruse my resume if I am packing sandwiches with nothing but chicken nugget in them.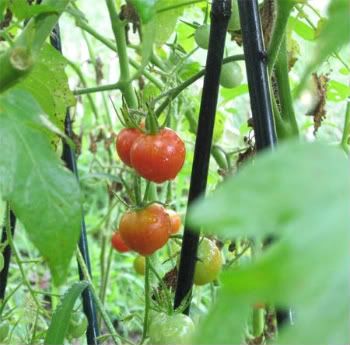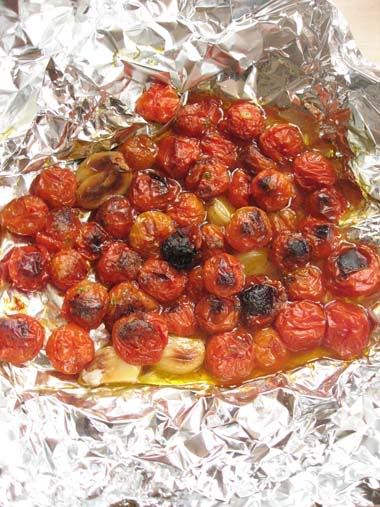 Back home to compensate that lunch with a healthy dinner and also use up the bounty of cherry tomatoes, I device a
Oven Roasted Tomato Soup
. The
bold flavor of garlic
and
sweet scent of tomatoes
roasting in the oven is enough to make me feel happy and uplift my spirits.
I decide to go the Indian route and
spice up the Tomato soup with some whole cumin
and then as a last minute whim
add a little of my Red Masoor Dal
(Red Lentil). With
garlic chives and coriander
snipped from the herb pot, the soup definitely tastes tantalizing.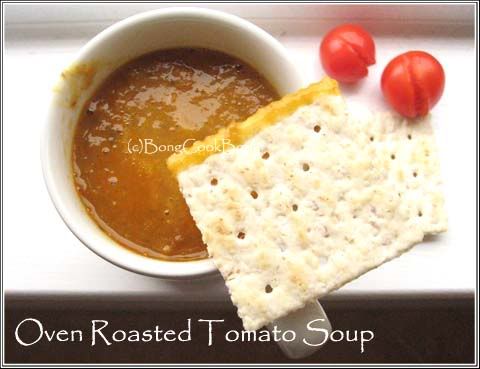 "It is the best Tomato soup we have ever had", says the hungry Dad
"Why is the Tomato Soup orange, I want a red tomato soup", says the 5 year old
The glare and 15 minutes later she says, " It is yummy", while she mops up the dregs with the last piece of bread !!!
Read more...







Oven Roasted Tomato Soup



In an

aluminum pouch throw together 30-35 cherry tomatoes, 4-5 cloves of garlic, salt and ground black pepper

. Drizzle liberally and I mean liberally with

olive oil.

Put in the oven at 400F for an hour, In my toaster oven it took an hour and then I had it on broil

Heat a deep bottomed pan or a soup pot

Pour

Olive oil

, this time don't go over the top

Add

1/4 tsp of cumin

and when it sizzles add some finely

chopped white onion

. Saute with a sprinkle of sugar till onion turns a light shade 0f brown

Add the

roasted tomatoes & garlic



Add

organic vegetable stock

and then about

1/3 cup of washed Red Lentils (Red Masoor Dal)



Add

salt

to taste and let the soup come to a boil. Cook till the lentil is fully cooked

Add fresh herbs of your choice. Definitely

coriander

and I also added some

garlic chives



Cool and puree in a blender

You don't need to strain. Serve with crackers or bread