Deep thoughts around Christmas time
Big Sis S
: Did you know Jesus died and then came back again ?
Me
: Yes
BSS
: Did you know that was during Easter ?
Me
: Yes
BSS
: So is he around now or did he again go to heaven ?
Me
: He became old, got tired of living here and so went back to heaven
BSS
: So what, he is an angel now ?
Unsure Me
:Mmmm, I think he became God
BSS
: How can Jesus be GOD, GOD is his father, remember Jesus is God's son.
Very unsure Me
: Mmmm....
Now exasperated BSS
: So what happened to GOD ? Did GOD become something else ? Or is GOD is no longer there ?
Very very unsure Me
: Maybe GOD retired.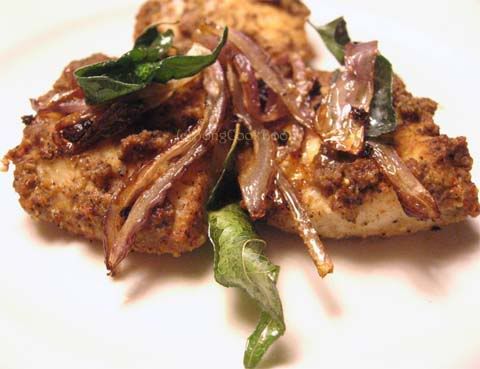 And with that said, lets have some
Chettinad Fish Fry
. I had never had Chettinad Fish Fry until a couple of months back. We had brought home, some steak pieces of sword fish and being new to sword fish, wasn't sure what to make of them. D suggested Chettinad Fish Fry which apparently he had at Legal Seafoods and had liked a lot. Of all the recipes on Chettinad Fish that turned up on Google, he said the dry one at Malar's
Kitchen Tantra
seemed closest to the fish fry he had tasted. I followed the recipe exactly and only skipped the tamarind paste because we are not too fond of that much sourness. I also did not add the eggs, all else was followed to the tee.
The fry turned out to be delicious and since then I have made the
Chettinad Fish Fry
with Sword Fish and also Tilapia. The pic here is the one with Tilapia fillet.
Read more...




Original recipe here.



Chettinad Fish Fry



The following recipe is for 5-6 pieces of fish

Dry Grind


1 tsp of Fennel seeds


2 Cloves


1" stick of Cinnamon




1 tsp Coriander seeds




3 Dry red chilies




1 tsp Peppercorns



Make a wet paste of


2 cloves of Garlic




1" Ginger



Prepare a marinade with


Dry Masala,




Wet Masala and


salt


little Turmeric




Chili powder to taste


3 tsp Lemon juice


Note: I skipped 1 tsp Tamarind paste


Marinate the fillet of fish or steak pieces of fish in this marinade for 1 - 2 hours

Heat

oil

in a Frying Pan. I shallow fried the fish so not too much oil.

Add

quarter of an onion

finely sliced , fry till translucent. Add

3-4 curry leaves

. Remove and keep aside

Add the

fish pieces

and cook till both sides are brown and crisp. Add the fried onions and curry leaves

Serve hot