A
couple of days back I was driving to the mall with Big Sis S in the backseat. A lot of things were going through my mind including how best to avail of the discount at Bath & Body Works.
When S from the back squeals: "What is
WOW
"?
Me: "That's a gym."
S: "Why does it say Wow ?"
Preoccupied Me: "Dunno".
Actually it is "Work Out World"
S: "I know.
Wow
as in WOW you are so fat, you will become thin if you join me !!!"
Me: "!!!"
I need a
WOW factor
in my life. I need catcalls, to fit into skinny jeans, to wear fitted tees. I have a mid age crisis, I think I am sixteen. No seriously who am I kidding, I don't want any of those, I just
want to be fit enough
to survive, sitting down cross-legged on the floor 560 times, bending down to pick up toys 250 times, going up&down 100 times, kneeling down to mop a spill 90 times like any other Mom does. For all else there is
Photoshop
.
To achieve that I have two options. I either take
Google Ad's tip
that keeps appearing on my sidebar like a bad dream or I take this month to eat well, well as in healthy,
more vegetables, more fish,
more fruits, less meat, no sugar, no processed food, no grains well
. Since I did
this
7 Day Challenge
last year, I keep going back to it every month or so. Even a week of this restricted eating helps me feel better about myself.
Pssst, but seriously how does Google know that I need tips and maybe more to get a flat belly ?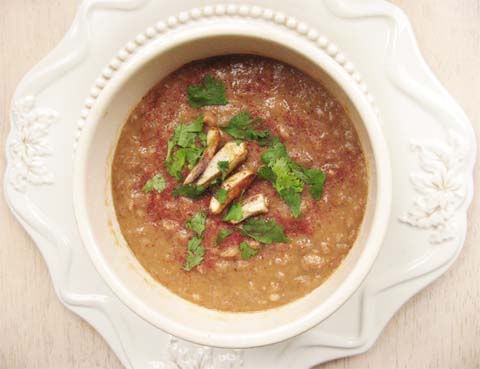 Whenever I have such healthy eating agenda on mind I browse through
Kalyn's blog
. She has wonderful SBD friendly recipes and so does
Sig
. This
Pinto Bean
recipe that I have today is adapted from Kalyn's Kitchen's
this recipe.
Now I had never been to Rubios and so had no clue what she was talking about. But then again I had never tried cooking pinto beans either. But all that talk about
creamy, "not refried" beans
hooked me on. I loosely adapted her recipe and now am a big fan of Rubios, wherever it is. A
creamy chunky bowl of these beans
will fill you up and satisfy your hunger as well as taste cravings.
Read more...






Creamy Pinto Bean





I have no measurements and you shouldn't really need any. Follow Kalyn's recipe to cook and mash the beans.



Soak

Dried Pinto Beans

in water overnight or for at least 12 hrs.

Note

:

If not soaking, cooking time will be longer



Cook them

in pressure cooker with salt, coarsely ground black pepper and little of finely minced garlic

. I had to pressure cook mine twice about 10-15 mins each time. You need the beans to be really soft, falling apart kind so if it is not done after the first 15 minutes do it again in second stage.

With the back of a spatula or a potato masher vigorously

mash the beans

until they are almost mashed but about 25% of them are still chunky. You don't want to mash all of them.

Note

:

You can make a big batch of this and freeze. When needed spice it up. I would suggest not to add garlic if you intend to freeze, it might become too garlicky



Now comes my own story of spicing up everything

Heat

olive oil

in a deep bottom pot

Add some

sliced onions and minced garlic

and fry till onion is soft and translucent.

Add

Pav Bhaji masala

and a little

red chili powder

. Add the

cooked and mashed beans

and mix well. Adjust for

salt

and seasoning. Add a little water and let the beans simmer and thicken. Stir in between till you feel the creaminess is perfect.

While serving garnish with

roasted garlic pods and chopped coriander

. You can squirt a little lime juice if you wish. That red sumac on top is just for the pictures, you don't really need it.



More healthy eats




Trivia
:
The pinto bean (Spanish: frijol pinto, literally "painted bean") is named for its mottled skin. It is the most common bean in the United States and northwestern Mexico.Rice and pinto beans served with cornbread or corn tortillas are often a staple meal for the poor where there is limited money for meat; the amino acids in this combination make it a complete protein source