I
t has been almost a month since the summer vacations started for BS and as far as I can see it, she is having a blast. For one, she is doing
NOTHING
on most days. Half of her day is spent at the neighbor's place, the second half of the day little neighbor friend spends at our place. I have no clue what they do other than eating a lot of ice lollies and blowing bubbles.
Then there is the numerous park visits with
Dadai
, about three parties that involved water slide, sprinklers, pool and such, a New York visit and stay at Times Square, couple of visits to the beach, lots of book reading and football watching, staying up late until 10:30 at night. The
days are packed to the brim
with nothingness.
To bring some semblance to her day I made up a routine involving some study and stuff for an hour each day. When I call up from work to ask whether she has done her day's quota of writing or math or piano, she says she couldn't as she has been "off schedule". Does that even make sense ?
This whole NOTHINGNESS of summer is so addictive that I wish I had a long summer vacation, a real one where I would do nothing but lick ice lollies and read books and blow bubbles.
I wish...
When I think of summer vacation from those days of childhood long past, I can't remember any single one. My childhood summers have just merged into one another, blended into one colorful blob.
I remember....
...
the swing
that Baba had hung up on the guava tree, the swing fashioned from a wooden plank and hung on narkele dori(coconut choirs). The friend who got hurt when the wooden plank hit her nose when one of us had jumped off the swing midway. Two days later we continued swinging up high, the friend's nose healed.
...rummaging through the huge black storage trunk,
digging up
Anandamelas
and Enid Blytons
, to re read.
...the mustachioed ice cream man with his military hat and shorts shouting "Golden" on Sunday afternoon. We called him Bhagat Singh. The
orange ice cream bar
that I always bought while Ma insisted that I get a Milk bar.
...the couple of weeks at my
Dida

's place
. The visits to Dakshineshwar Temple and the boat ride to Belur. The coolness at the Birla Planetarium and the happiness browsing books at College Street
...writing pages of Hindi in big letters, trying to fit not more than 3 words a line to finish the
summer homework
. Writing pages of English, cramming as much in a page to finish the same.
What do you remember from your summer vacation ?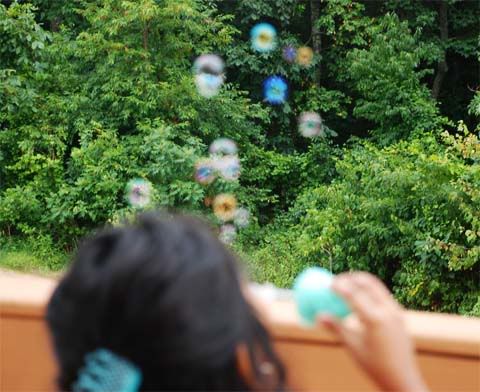 Lauki/Lau
or Bottle Gourd
is a favorite summer vegetable with the Bengalis. It is supposed to have a cooling effect in the summer heat and so a light
lauki sabzi
or
lau tarkari
would pop up ever so often during the summer days. My Ma would cook the simple bottle gourd several ways, each lightly spiced, perfect as a summer side dish.
This particular one cooked with milk, the
Dudh diye Lau
is slightly on the sweet side and one I have never cooked before. I learned it from Ma while she is here and cooked it this Saturday. It is as I said,
light, slightly sweet, perfect as a side dish with rice
for a light Summer home lunch. Do not expect an explosion of taste when you eat it, it is humble and meek, perfect for your
satwik
senses.
Read more...


Peel and Chop a decent sized Bottle Gourd in small cubes



Cook about

4 cups of cubed Bottle Gourd or Lauki

without water and a little salt till done. No need to add water as the Bottle Gourd will release a lot of water while cooking.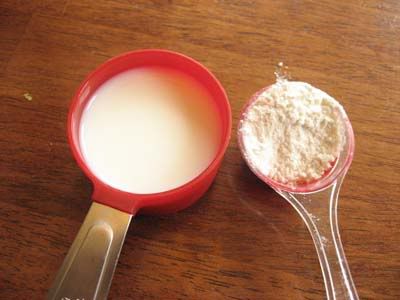 Mix

1/4 cup of Milk

with

1 tbsp of All Purpose Flour/Maida

to make a smooth paste. Once the Lauki/Gourd is cooked,

add the milk paste

and mix gently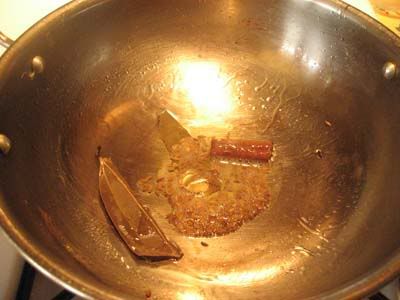 Heat

2 tsp of Ghee

in a Kadhai

Temper with

1 Bay Leaf, 2 Green Cardamom, 1" thin stick of cinnamon, 2 cracked dry Red chili and 1/2 tsp of whole cumin seeds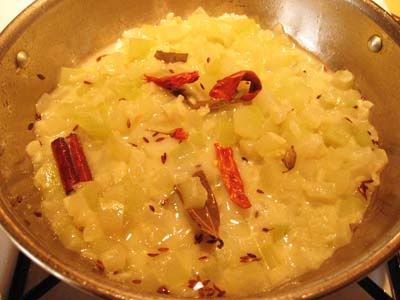 When the spices pop,

add the cooked gourd

and saute for a few minutes. Add

salt

to taste, add about

1/4-1/2 tsp

of sugar

. We Bengalis like this dish light and sweet.

Keep cooking till the water has almost dried up and there is almost no gravy except the liquid clinging to the veggie




Now there are three ways to garnish
(a) Garnish with

fresh grated coconut


(b) Fry

vadi

and crumble them on top
(c)Fry

a papad

and crumble on top just before serving -- This is what I have done



Similar Recipes:



Lau Chingri

Lau Bori

Tetor Dal

-- Dal with Bitter Gourd and Bottle Gourd