T
oday I will not talk much and we will have a peas-ful time.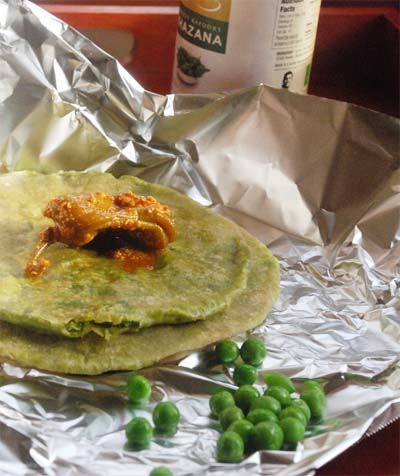 There will be
no nostalgia
about shelling green peas by the mounds on winter evenings watching Chitrahar on DD1. No fond
remembrance of the waxy pea pods
and their sweet pea smell.Not a word about how the pea pods would taste in a jhol Ma would make. I could have lapsed into
sweet memories of my Dida
making
koraishuti'r kochuri
and us huddled in the pantry below the stairs, shelling peas, popping a couple of peas from each pod, laughing and the mound of peas growing much smaller than the mound of gathering pods.
But I will not speak thus because I did not shell a single this Friday night. I used my pack of frozen Birds Eye peas in the freezer. I lost out on the bonding over peas but on a Friday night when all I wanted to do is fix dinner and conk off, the shelled sweet peas worked more than fine.
And also let me clarify, I
did not make Koraishuti'r kochuri.
No, I
made Koraishutir Parota
. Not much difference except for a gallon of oil here and there. Not that a gallon more matters when it's the season to be merry. But I had just consumed pounds of butter a week back and did not think following up with a gallon of oil would be judicious.So Koraishuti'r Parota it was.
Read more...




So towards this venture let's first make the Pur or the stuffing made with peas only. It is easy and quick if you have a freezer and peas in them.



The stuffing remains same if you make Kochuri or Parota.

This makes stuffing just enough for 6-7 Parotas. Take into consideration that if you are like me, you will eat the stuffing just like that too.

Defrost 1 cup of frozen sweet peas. I usually prefer the Microwave for such purpose.

Put in a blender
the peas
3/4th tbsp of peeled and chopped ginger
2 green chili(optional)
very little water, a tsp to start with
Make a fine paste

Heat Vegetable Oil in a frying Pan

Add a pinch of Hing/Asafoetida. I will insist on this as it lends an awesome fragrance. Many Bengali homes will add a little whole cumin instead of Hing, but I will steadfastly stand by Hing. I sometimes do the tadka with cumin + Hing.

Add the pea paste that you just made. Sprinkle 1/4 tsp of Dry Roasted Cumin + Red Chilli Powder(Bhaja Moshla). Add salt to taste. If your peas are not sweet enough add a little sugar. If you like it hot add some Red Chili Powder. Improvise.

Now keep stirring till the water from the pea mix totally evaporates and the mixture becomes dry, thicker and congeals like in 4th picture anti-clockwise. This takes a good 15 minutes or more. Basically it should come to a stage where you can make a small ball for the stuffing.


The Koraishutir Parota

Now let us first work on the dough for the Parota. I am not really a flour girl and flour intimidates me. So though I have tried to bring it all down to numbers the merit of your dough is in your kneading

The following measure makes more Parathas than the stuffing I made. Since I make smaller sized Parathas this measure gave me about 14 small parotas.

AP Flour/Maida ~ 1 cup
Whole Wheat Flour ~ 1 cup
White Oil for shortening ~ 1&1/2 tbsp. many people use ghee as shortening too.
Salt ~ a pinch or say 1/4tsp
Warm Water ~ 1 cup(added gradually). Some people add warm milk to make a softer dough, I haven't, you can try.
Dry Flour ~ in a plate for rolling the Paratha.

In a wide mouthed bowl add the flour, the salt and the oil for shortening.
With your finger tips rub in the oil into the flour.
Now gradually add the warm water working the flour into a dough. If it becomes too watery don't panic and add a smattering of flour but it is smart to be cautious with the water.
Knead the dough till it does not stick to your fingers at all.
Keep on kneading till the dough becomes alabaster smooth, soft and pliable.

Cover with a damp cloth or damp kitchen towel and let it rest for 15-20 minutes.

Once again pummel/knead the dough and make small ping-pong sized balls from it.

Now start rolling as follows



Roll a small disc



Make a small ball out of the stuffing and put in the center of the disc



Bunch up all sides to make a purse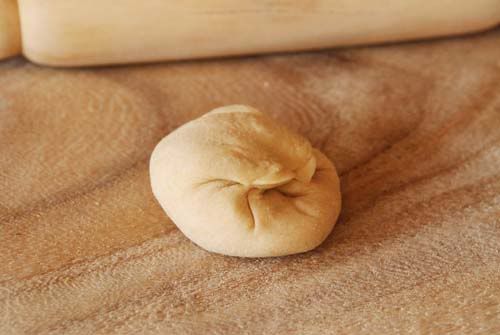 Now pinch the dough to cover up the opening and flatten it out on the palm of your hand.



Roll out sprinkling a little dry flour as you go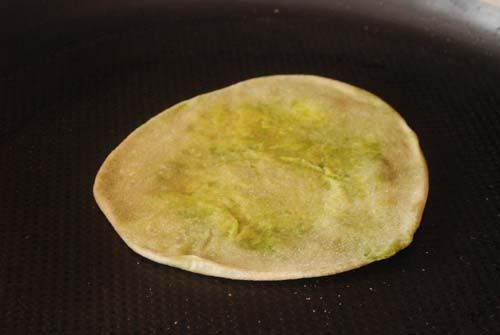 Heat a skillet/tawa. Place the rolled paratha on the heated tawa and cook on one side until bubbles starts to appear.

Flip the other side and pour oil in drops around the edges of the paratha.



After half a minute or so flip again and again add oil around the edges. Keep doing this, every side half a minute or so until the paratha is cooked on bot sides. There will be little brown spots on the surface and then you know you are done.



For making Kochuri we use more Maida/AP Flour and more shortening
AP Flour/Maida ~ 1&3/4 cup
Whole Wheat Flour ~ 1/4 cup
White Oil for shortening ~ 2 tbsp

Make the dough just like the Parota but knead a little more.

Kachuri is deep fried and smaller in size so make smaller discs. Put stuffing and roll just like above only a bit thinner.

Now heat oil in a wok/kadhai and deep fry the kochuri till both sides puff up.

This process is more like making luchi which I have here and here.

Enjoy these with some Alur Dom or Cholar Dal or just by themselves.