Paneer Butter Masala -- Paneer in a rich creamy gravy
I
really really love December. Though the month brings lots of housework, cooking, cleaning, re-cleaning, making umpteen trips to the grocery store on cold cold days, I still love it. I don't do too many Christmas presents so am saved running around in the madding crowd of department stores.
Though BS & LS don't really have a wish list for Santa, I still have to buy something for them, to keep with the spirits and put stuff under the tree.
LS said all she wanted from Santa was "Geefs" and Santa was going to give "geefs" to her and Didi only.
"
Tomay Santa geef debe na. Ami debo, bujhecho
?(Santa won't give you geefs. I will, understand ?)", she told me.
And then the not yet two-and-half got me an empty yellow polka dotted gift bag (from my stash), and said "
Tomake lellow geef debo ar Baba ke red"
(I will give you an yellow gift and Baba a red one);
BS initially wanted a pair of light up shoes, a simple pair which looks horrible and does nothing but light up. Her Dad had denied her that and got a pair of sensible sneakers instead so she said though Santa wasn't really real but only some saint, she wanted the light up pair from him. Last Friday though she said if she had a wish list she would put on it a Polly Pocket doll that changes hair color on getting wet.
Neither has been acquired.
For all I know she might forget about both by Christmas Day. December being her birthday month, she gets enough gifts to keep her happy anyway.
Now to the
Paneer Butter Masala/Paneer Makhani
which I made for a party this weekend.It was genuinely loved.
Honestly I am not a Butter Paneer kind of gal. Though you might not know it. You might see me and think, "Oh she sure eats Butter Paneer for all three meals a day". But that is not really true.
I hardly make butter paneer or butter chicken and don't crave for them even at the grand Indian buffet. Now buttered toast with some sprinkled sugar or salt & pepper is something I crave but we shall not digress.
The smooth, uniform taste of the makhani gravy does not excite me.But I have learned that people love Butter paneer or Butter Chicken or Butter Mutter or at least they think they love it. They will cross continents and open a shop and sell an orange gravy called Utter Butter and next day there will be a queue outside asking for more. It doesn't hurt that it is god dang easy to make. Much easier than
shukto
or
bandhakopi ghonto
or such stuff. Even if something goes wrong all you have to do is add more butter and cream and voila, there is praise all around.
I used to make a
low fat version of Butter Chicken
earlier and still do but when I have lots of people over I go overboard and do the whole butter, cream thing. People apparently love butter. So be it.
Read more...
Paneer Butter Masala/Paneer Makhani
Make your own Garam Masala

Dry roast

10 Cardamom
15 Clove
2"thin Cinnamon stick
3 Dry Red chili
two or three 1" bark of javetri/mace
in a skillet till fragrant. Alternately pop in toaster oven for 5 mins at 250F. Cool and grind to a fine powder. Store in a small air-tight jar. Use 1-2 tsp of this Garam masala in the gravy.



Make the Gravy


Heat 1 tbsp Oil + 1 tbsp Ghee/Butter in a deep heavy bottomed pan


Temper the Oil with 1/4 tsp of Fenugreek Seeds/Methi and 2 big black cardamom


To the oil add approx. 2 cups of red onion finely chopped and fry till onion starts browning. If you like your gravy very smooth with no onion pieces to bite into, you can do a paste of the onions or fry the onions and then make a paste too.Note: I have made this with just about 1 cup of chopped onion and that works very well too.


Add 3tsp of Ginger paste and 2 tsp of Garlic Paste. Fry for next 3-4 minutes at medium heat


Puree fresh or canned tomatoes to make about 2 cups of tomato puree. Add the Tomato Puree to above and fry for 8-10 minutes till water almost evaporates.


Make a paste of 2tbsp Cashew+ 3/4 tsp Poppy seeds(optional) with little water. Add this paste to above. Also add
1 tbsp of Kasoori methi crushed between your palms,
1 tsp of Kashmiri Mirch,
1/2 tsp of Red Chili Powder(adjust to taste, I skip for the kids) and
1 tsp of Garam Masala Powder.


Fry till the raw smell of tomato is gone and you see oil separating from the Masala. This will take some time but it is important that you achieve this step.

Add 1 cup can(14 oz) of Evaporated Milk and 1/2 cup of water. Add salt to taste. I will also add a little sugar at this point.Let the gravy come to a boil and then let it simmer at low heat till it thickens a little. You can cool and refrigerate this gravy and use it in a couple of days.


Note

: Cham in one of her comments had suggested that if I am weary of cream I could use Evaporated Milk for the gravy. That is what I do and only add a little cream at the end.It tastes perfect.


Assemble Paneer in the Gravy
Cut a 14oz/400gm block of Paneer in small cubes. I use the Nanak Brand we get here which arguably is the best. If the Paneer is of the tough kind you need to soak in warm salted water after frying. I do not do that with nanak brand.

Edited to Add

: I do not use all the paneers from the block in this gravy, maybe 3/4th of the cubes is used. The other paneer cubes are refrigerated for future use.

When you are ready to make the paneer fry the paneer cubes to light golden. While frying, I sprinkle a little salt, sugar and kasoori methi on the cubes.Add the paneer pieces to the gravy. Add a little more water or milk to make the gravy right consistency.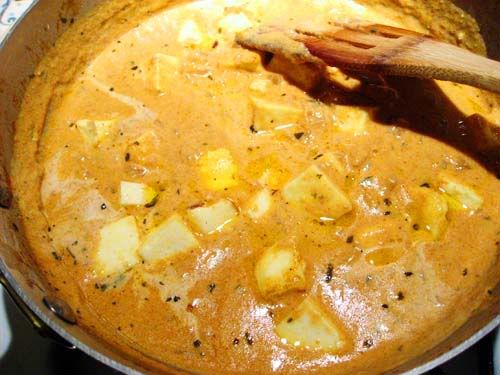 Adjust for seasonings and add a little more Garam Masala if needed. Add 2-3tbsp of cream and let the gravy simmer for 10-15 minutes till done. It tastes good even without the cream but what is butter paneer without some heavy cream anyway.