I
had resolved to be un-floured and unen-doughed for the first few days of my New year. But that did not happen. So I decided to push my New year to next week, Jan 9th to be precise. Till then I am living in the old decade.
This
Date Cake
is my friend's recipe. She is a very good cook and has been making this cake for a while now. I myself have had it several times baked by her and each time have been floored by it's taste. However, I never asked for the recipe.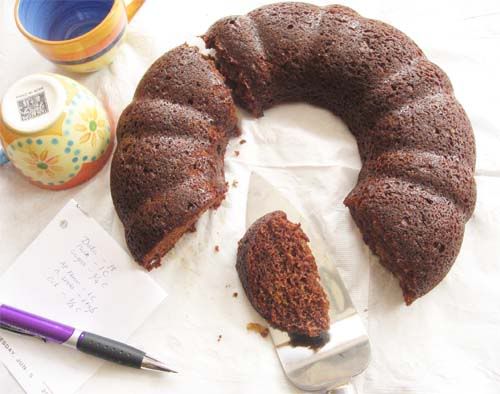 You would think a foodie will instantly ask for a recipe when she eyes one. Not me.
I thought Date + Cake ? Too difficult. Plus she has those shiny Kitchen Aid Stand Mixers. Anything can be done with those. I don't have a
shiny Kitchen Aid Stand Mixer
. Don't even plan to buy one. So I cannot bake Date Cake.
QED.
Then she baked it for one of our parties during the holidays. Everyone "oohed" and "aahed" and then asked for the recipe. Not me, mind you.
But then it was a small place, not a
haveli(huge palace)
or something and you could clearly overhear even if you did not wish to.Of course I could have excused myself and gone to the loo but that would be too much. So I overheard and it was so simple that I could not believe it. I thought she might have skipped one whole chapter what with the wine and all that noise. Just to be sure, I asked her the recipe again, over the phone on the evening of 1st Jan.
And guess what ? It was really T..H..A..T simple. Hallelujah, one more reason not to buy a shiny red Kitchen Aid stand mixer.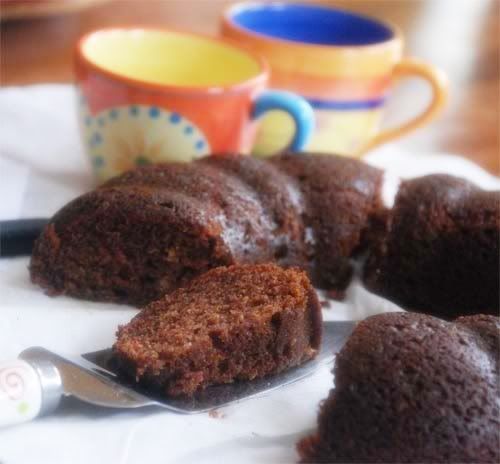 The
cake called for no eggs, no butter
and I did not have to even take out my hand mixer. What relief !
And it tasted best of all the eggless versions I have tried so far. In fact it tasted much better than my
pound cake
did.Moist, fluffy, studded with nuts, just right sweet, what more could you ask for in a cake ?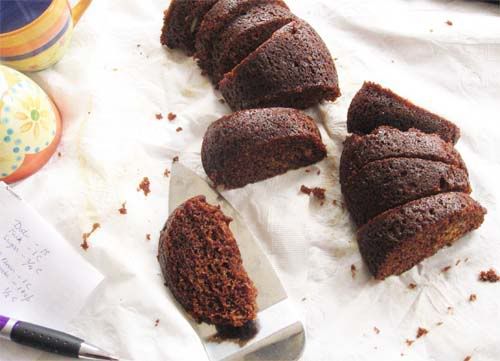 But then what makes it rise and become so soft and fluffy ? There has to be science and this did not fit the bill of my
earlier explanations
. Except for the baking soda, there was nothing to make air, air and more air.
It seems the
baking soda
does the trick. Baking soda is a "base." It needs an "acid" ingredient in order to start the chemical reaction that makes it work, such as
buttermilk, cocoa powder, chocolate, honey, lemon or orange juice
, etc. I guess the dates have some acidic ingredient which reacts with the baking soda to create carbon dioxide and thus bubbles in the batter. With this theory I am thinking you could substitute dates with some other dried fruits and make an yummy cake too. If you notice this is the reason the
raspberry cup cakes
turned out very well too. Vinegar worked with baking soda in that recipe.Do
not try to replace baking soda with baking powder
as baking powder already has the acidic ingredient, so further reaction with an acid in the batter might ruin the cake like
this
.
So go and bake this
eggless butterless date cake
. It really is the best and I usually do not impose on unless it is the family or it is something that will change your life...
If you have started your newest year have a good one.
Read more...
Eggless Date Cake

Pitted Dates ~ 18. She said I could use more, so I used 25.
Milk ~ 1 Cup

Soak dates in milk overnight. I did not have so much time so I soaked the dates in warm milk for 3 hours and then nuked it for a minute.

Preheat oven to 350F

In a blender add
dates + milk
3/4 cup Sugar
Since I had more dates, I reduced the sugar a wee bit.
Make a smooth mix.

Sift
1 Cup of AP Flour
1 tsp of baking Soda
*AP = All Purpose. Can be substituted with Maida

Measure out
1/2 cup of Oil

In a wide mouthed bowl add the
date+milk+sugar mix from the blender
Add
1/2 Cup of oil
Add the flour mix gradually, mixing as you go.
Add 1 tbsp of chopped cashews or walnuts.

Mix gently to make a smooth batter. My friend suggested the hand mixer but I just mixed with a spatula.

Now grease a bundt pan. Pour the batter in this pan and bake till a toothpick comes out clean. Mine was done in 32-35 minutes, but I had a silicone pan. You can also use a regular 8" cake pan instead of a bundt pan. Baking time may vary.

Serve with a scoop of vanilla ice cream as my friend does.



Similar Recipes:



Eggless Date Cake from Aayis Recipes

Vegan Date Cake from Madhuram