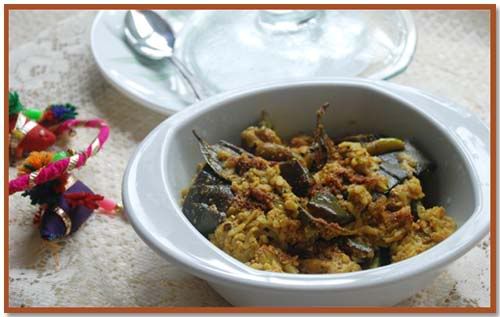 I
really don't love eggplants all that much. I like okra way better than eggplant. But you wouldn't know that. I have only
one single okra post
in all these years and several eggplant ones. In fact the frequency with which I am posting eggplant dishes you would think that is all we eat at home. But that is as far removed from the truth as is the earth from the moon or as is me from reality.
The reality is we do eat eggplants more than okra, for one it is easier to chop and cook and does well in mass production and everyone adores it. But not me or BS
.
I do not love eggplant more than okra. BS does not love anything but her little sis.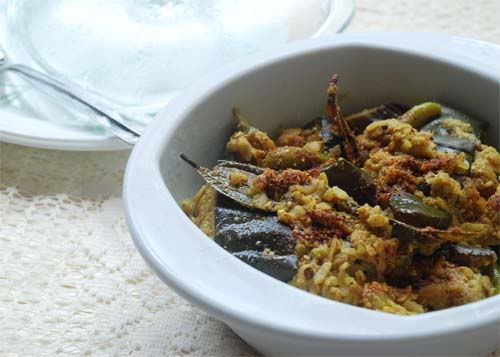 But this dish, the "
Begun Chirer Pulao
" is different. It is a very new thing, which I have never heard or had before. My Ma with her genius and her repertoire made this some weeks back. She says she got it from a book. Whoever was invited for lunch that day "oohed" and "aaahed" over it. The husband liked it a lot. In short this dish got so much recognition that every thing else paled in comparison. Now these are words I can rarely say about 90% of the other recipes I have posted in all these years.
So you see this is important. For one
it is a very novel dish
and Bengalis love novelty as long as it is not octopus in tamarind sauce. They love trying out new dishes if it is Bengali, Indo-Chinese, Thai, and maybe Moroccan, ok not Moroccan but might be. So because of the
newness and the ease of cooking and the taste this dish is a big winner
. I made it again over the weekend for some friends. Everyone suitably "oohed" and "aahed", and acted surprised, because who would have thought of
cooking eggplant/brinjal with poha
, really.
Read more...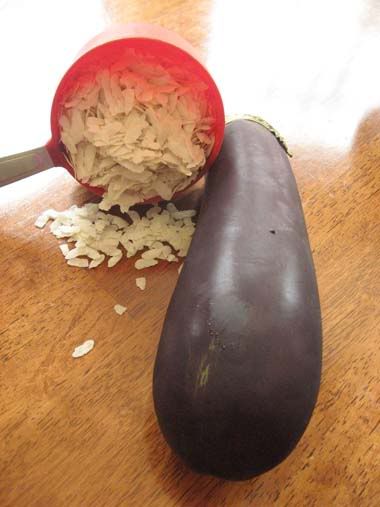 Begun Chirer Pulao -- Brinjal n Poha Pulao





Suggested Oil

: Mustard Oil.

If Not

: Canola or Peanut Oil

Never

: Olive Oil



Serves 5-6 adults as a side dish



Chop

2 medium sized eggplants

in thick slices. Soak in water with little salt for half an hour OR if you are running out of time just wash them well. Remove from water and

sprinkle turmeric powder and salt on the slices

and let them rest for 15-20 minutes.

Heat oil and

deep fry the eggplant slices

. They should be almost like 99.5% cooked at the end of this and taste totally yum with some dal and rice. But NO you cannot eat them because the universe is waiting for your Begun Pulao and you must give them that.

Now take

1 cup of Poha (

or Beaten Rice) and

fry them crisp in oil

. IF you are not my Mom and you are like me and you like to pretend that you

do not like deep frying

toss the 1 cup of Poha with droplets of oil and arrange them in a single layer

on a baking tray. Put in the oven at 350F till the poha turns crisp.

Heat some more oil in a heavy bottomed pan. Temper the oil with
1/4 tsp of Hing/Asafoetidia,
2-3 small Bay Leaves
and 5-6 small green Indian chili that have been slit.

While the oil heats, in a bowl add

1/2 cup of thick yogurt

and beat. To it add
2 tsp of ginger paste,
1/2 tsp of Kashmiri mirch,
1/2 tsp of Red Chili powder(optional),
1/4 tsp of turmeric powder,
a little sugar and mix well.

Switch off the heat and wait for a minute. Add the

yogurt to the pan

and mix. Put it back on low heat after one more minute. When you see the oil seeping out of the side of the masala add about

1 cup of water

. Add

salt to taste

and let the gravy come to a boil. Add

the fried eggplants and mix gently

so that the eggplants are well coated with the masala. Let it simmer till the gravy is thickened.

Note

: I

f you have a fear of yogurt curdling add a tsp of besan or gram flour to the yogurt and mix well so that there are no lumps. Now add everything else to the yogurt and add it to the pan



Add the

fried/roasted crisp Poha

and mix with the eggplants.

Sprinkle

1 tsp of Garam Masala

powder on top and serve. Goes well with Rice or Roti. Tastes best when served in a couple of hours time or at least same day.