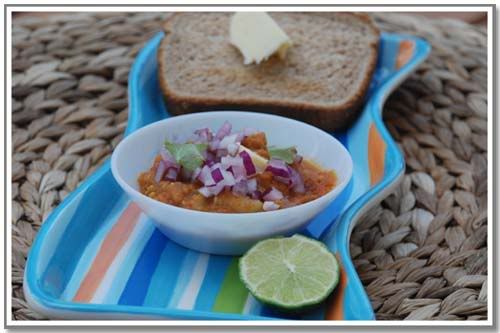 I
f you could see me now, as in right now, you would see my head hanging down in shame, my eyes looking down to my feet, which is not exactly the most pleasant sight on earth, but better than the boring beige carpet.
For one, I am ashamed that I am a sorry human momma who is doing nothing for the oil slick pelican momma in
Louisiana.
I am Sorry.
For second, this one is not as grave as the first but still I should be ashamed that I did not make
India's famous street food Pav Bhaji
at home until day before yesterday.
In the time and era which I grew up,
Pav Bhaji
was not heard of where we lived. Even if some third removed Mumbaikar cousin ever mentioned it, the adults dismissed it as "
Pauruti-Tarkari
" and no one showed any further interest.
Much later when I lived in Bombay, now Mumbai on my new found independence for a very short time, I was introduced to
Vada Pav and Pav Bhaji.
I thought
Pav Bhaji was healthy, wholesome and NOT deep fried
. I therefore chose to live on the deep fried goodness of Vada Pav, saying a polite No to Pav Bhaji.
Still later in a narrow littered street in the US, lined with stores named "Payal" , "Shalimar" and "Udipi Bhavan", I had Pav Bhaji in a small chaat place.
This time
I chose Pav Bhaji because I thought Pav Bhaji was healthy, wholesome and NOT deep fried
. I loved it enough to go back several times to have just Pav Bhaji with nary a glance towards the shammi kabab on the husband's plate.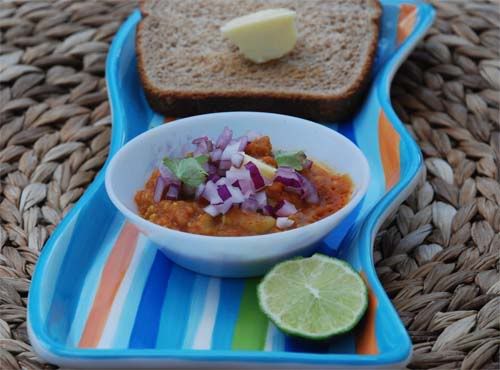 I loved the
buttery soft pav, the spicy bhaji with red onions, the pat of guilt butter
. But never did I want to make Pav Bhaji at home, because I thought it was too much work. I thought you needed to chop at least ten vegetables and if I would/could chop ten vegetables for one single mashed up dish, even if it is India's most famous street food, I would...well...not be me.
I would buy a packet of Pav Bhaji Masala once in a while though, it felt like the right thing to do. This version of Pav Bhaji Masala in the pantry has been sitting there for the last six months now. It would have led a still longer, cozy, comfortable and relaxed life on the second row of the middle shelf if not for
Nupur's Blog Bite #4
.
So I took the
Pav Bhaji Masala
which by the way was
Badshah
and
not the recommended Everest
and declared that it better get to work and that in this hard time, its serene life was over. It would have to prove its worth in none other than
Nupur's Pav Bhaji
, who is a
Marathi
Maharashtrian and the recipe is her Aunt's who too is a
Marathi
Maharashtrian and the Pav Bhaji is Maharashtra's national dish, so it does not get more authentic than this.
Did I say, I loved the fact that Nupur did not use 10 different vegetables. Hallelujah.
The
Pav Bhaji
turned out to be an easy dish to make. It was pretty good given that I do not have much of a benchmark to compare. Like I have not had Sukh Sagar Pav Bhaji only backstreet US Pav Bhaji. Here I would also insist that if Nupur asks to use the
Everest Pav Bhaji Masala
, there is a reason she does that and so the Badshah (the one I had) will not deliver the same result.
I am going to make this next using Everest and I am sure that will give Sukh Sagar a run for its money. I am also going to get some of that soft Pav and indulge. I am going to take a vacation all by myself in Corfu, because I love Gerald Durrell and it will be very cheap. I am also going to fire everyone in BP.
For now I will send this to
BB4:What's Lurking in the Kitchen ?
Read more...






Original Recipe



Nupur's Pav Bhaji



Pressure cook

half head of a cauliflower and 2 peeled and cubed potatoes

till tender and set aside.

Heat

2tbsp oil

in a deep saucepan and saute the

1 chopped green bell pepper

chopped till it starts browning on the edges.

Add

1/2 tsp of ginger paste, 1/2 tsp of garlic paste

and saute some more.

Add

1/2 tsp turmeric powder, 1/2-1 tsp of chili powder

to taste and

salt

to taste. Saute for a couple of minutes.

Add

2-3 cups of tomato puree

. I added 3 whole peeled and canned tomatoes along with their juice.

Next add

1/2 cup peas, boiled potatoes and cauliflower, 1 tbsp or more Everest

pav bhaji masala and 1 tbsp butter.

Keep frying and mashing it together till it is a smooth mixture, adding water as required (you can use a potato masher to help you along). Simmer for 20-25 minutes to really get the flavors to meld together. I also added a little sugar because my tomatoes were really tangy

Nupur says "

You have to keep tasting and adjusting salt, masala and tomato till you like the balance between the tomato-ey tang and the heat of the masala.

" --

This is important



Garnish with

chopped red onion, chopped corriander, a wedge of lime and a pat of butter

. Serve with buttered pav.



Trivia: The origin of Pav Bhaji is traced to the heyday of the textile mills in Mumbai. The mill workers used to have lunch breaks too short for a full meal, and a light lunch was preferred to a heavy one, as the employees had to return to physical labor after lunch. A vendor created this dish using items or parts of other dishes available on the menu. Roti or rice was replaced with pav and the curries that usually go with Indian bread or rice were amalgamated into just one spicy concoction-the 'bhaji'. Initially, it remained the food of the mill-workers. With time the dish found its way into restaurants and spread over Central Mumbai and other parts of the city via the Udipi restaurants