M
y two girls being
different in a lot of aspects
are uncannily similar and I am not including points about both being of the same gender here. For one they are both House Devils and Outside Angels. In case of LS, "Outside" means other people's homes and excludes public places like library, stores, mall etc.
But the charm of hearing "How well behaved your kids are", have worn off me.I would rather they jump on the neighbor's couch than mine and beat up snotty down the road than share my idli stand with him. I don't see that happening though. Even LS who screams if BS so much as touches her bagel, will politely give up her toys in face of a stranger who is not a house resident. And I did not even teach her to share !!!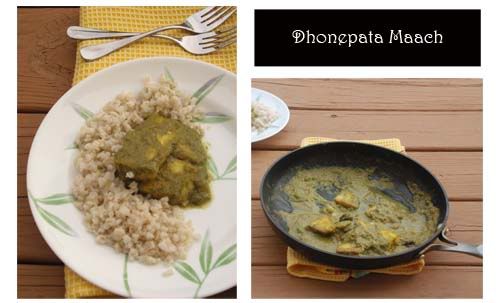 Now to the fish. This
recipe is my friend S's
, the one who is the diva of
fish fries
and all such things. Have I told you she is an amazing cook ? Ok, I have.
But have I told you that she might be
THE reason
for me to eventually shut down this blog ? No, I haven't ? Well, I just did. I mean I didn't shut the blog, but if I ever did She(S) is to blame.
Every time I am at a dinner at her place, I want to come home and forget my password for Blogger. I mean there she is, cooking up a storm for 30 odd people, each dish perfect and delicious, the presentation beautiful and the best is, every time she has something new to offer, a slight twist on similar Bengali dishes and here am I who gets the hibbie-jibbies at the very though of cooking for 30 people !!!
S is also very nice about sharing her recipes. She doesn't have intentions of filing a patent on them and her recipes are totally open source. She will share them with all her tips unlike some people who guard recipes like the state secret.
So last week at the dinner she hosted, she had made an amazing
green fish/fish in cilantro sauce/dhone pata maach
. It was very unlike anything I had ever had. It is another story, that "that evening" was unlike any I had ever had, what with the hostess accidentally cutting her hand and being rushed to the emergency for stitches and the kitchen looking like a murder scene with blood and shards of glass everywhere. But we Bongs are shameless folks, so while S was in ER we ate her awesome fish, bhapa chingri, biryani, fulkopi et al and discussed her awful accident.
Yesterday while discussing her eight stitches, she revealed the secret of her fish. I wanted to try it right then, but I did not have half her ingredients. So I improvised. The result was good but not as good as hers.
Maybe it is time for me to make the last call.
1. S said, we need
Shaan Fish Seasoning
. I had none and no way was I going to buy a box for one dinner for two of us . The ingredients on the Shaan Spice box said:mace, clove, cardamom, green mango powder, fenugreek leaves and what not. I mixed
1/4 tsp Garam Masala + 1/4 tsp Kasoori Methi + 1/4 tsp Corriander Powder + little Amchoor
to make my own seasoning.
2. S said to use
a little of MDH dried Mint
. Again I gave this a skip.
3. S said to fry the fish, I baked them. S said to use
a little ajwain
, instead I used
Methi/Fenugreek seeds and Big Brown Elaichi/Cardamom.
As a result my dish wasn't exactly like hers. But still I am writing it down both with her and my versions so that I NEVER forget her version which I intend to do soon.
Read more...






Dhonepata maach -- Fish in Cilantro Sauce


Serves 2 adults and 1 kid. 2 fillet of Tilapia cut in cubes were used.

Grind together
1 cup of chopped fresh corriander leaves
1/2 cup of thick yogurt
2-3 fat cloves of garlic
1" ginger
4 green chili
to a smooth paste


Note

: S used a little dry mint in this paste.

Cut the fish fillet in 2" cubes. S used a fish called Swahi, I did Tilapia. A firm fish with no strong flavor works well

Smear the fish with turmeric and salt and keep aside for 15-20 mins. Pan Fry the fish pieces till they are light golden on both sides. I baked them at 350 for 20 mins and then on broil for last 5 mins.

Heat White Oil in a saucier/kadhai. Add 1 cup of chopped red onion. Fry the onion till it browns on the edges. Cool and make a paste. I don't remember if she asked to use Tomato.

Season the oil with 5-6 methi seeds and two large cardamom. S did not use methi or cardamom, remember she had Shan. When the methi seeds sputter, add the onion paste. Fry for half a minute. Then add the corriander-yogurt paste. At low heat fry the masala till you see there is no excess water and oil seeps out from the edges. You need to cook the masala really well, you will no when it is drier than what you started with and there is oil around the edges.

Now add about 1 tsp of Shaan Fish Seasoning. I did not have this, so I added my spice mix of 1/4 tsp Garam Masala + 1/4 tsp Kasoori Methi + 1/4 tsp dry roasted Corriander Powder + little Amchoor . With a sprinkle of water fry the masala for a minute. Make Garam Masala like this.

Now add 1 cup of water. Add salt to taste. Let the gravy simmer at medium heat. Adjust and check for seasonings. I think I added a little sugar at this point.

Gently slide the fish pieces into the gravy. let it simmer for 2-3 minutes till gravy thickens. Switch off and transfer to serving dish.