I
don't know about you but I love the
Louisiana Style Chicken Pasta
at
Cheesecake Factory
. I love it so much that it is the dish I always have when I am there.
Not that I am there a lot.
I mean I would love to be there always but they have this 40 minute waiting time and my kids are not really the waiting kinds and though I can
wait till infinity to have that pasta
, my kids have better things to do.
Maybe I just have way too much time on hand. Maybe I should find myself better things to do.Like ordering a dessert next time I am there. This Pasta makes me so full that I always skip dessert.
Or like googling for Louisiana style Chicken pasta instead of waiting for it. Taking matter into my own hands.Having my Pasta and eating it too. Not all kinds of pasta. But hey Louisiana, here I come.
So this is
the star recipe
that came to my rescue. I will be eternally grateful to this lady for coming up with this thing and though I mangled her recipe and put my signature touches all over it, the credit goes only to her.
Also I
totally skipped the chicken
part since there was none. I asked the other adult to get me some chicken breasts when I started cooking this, which is 9:15 PM yesterday night to be exact. But he ignored. I didn't even ask him to hunt for it, to just get it from the grocer's but he still ignored.
Men just aren't the same anymore
.They don't gather food, they just eat it.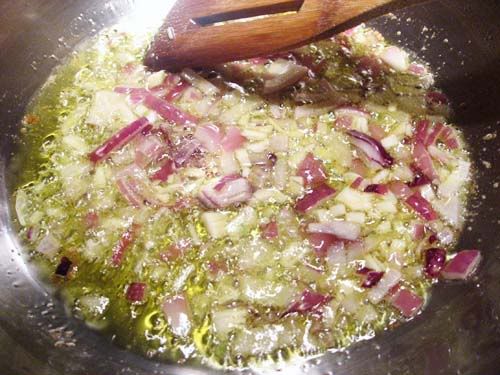 Heat
2 tbsp Olive Oil
in a skillet.
Recipe said 1 tbsp butter but you know me
.
Chop
3/4 th of a small red onion
in small pieces and add to skillet.
Follow suit with
2-3 cloves of garlic
minced.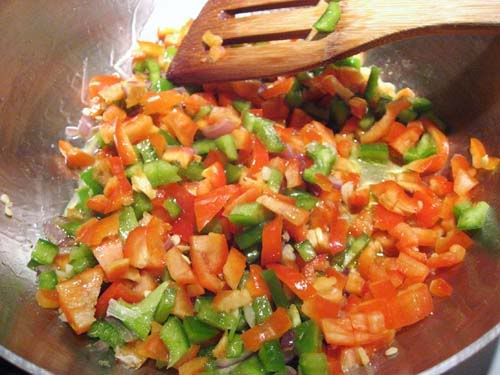 When the onion is soft add
1 red bell pepper chopped in small pieces
1/2 of a green bell pepper or 1 small yellow bell pepper
chopped in small pieces.
1 cup of sliced mushroom
Saute for about
4-5 minutes
till the veggies soften.
Now the
spices
.
Add
1 tsp crushed red pepper or 2 Dry red chili crushed.
Adjust as needed and increase if you have no fear of red pepper.
More spices. Since this was Cajun cooking D decided we need to skip Basil which the recipe had and add these spices instead.
Again we did not have Basil and at 9:15 PM yesterday D ignored my plea to get basil from the grocer's so he came up with his theory about Louisiana people not using Basil and such
.
1/4 tsp of Dry Roasted Cumin powder
1 tsp of All spice roughly crushed(optional)
1/2-1 tsp of fresh Black Pepper powder
Note
:
If you have a store bought Cajun spice powder, you can just use that instead
Saute for
2-3 minutes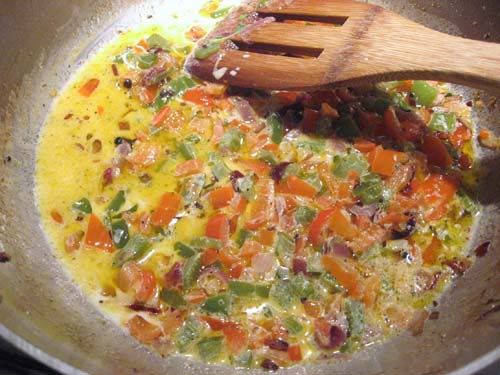 Add
1/4 pint of heavy cream + 1/2 cup Milk
--
Recipe said 1&1/4 pint of whipping cre
am
1 cup of water
--
Recipe said 1 cup of chicken stock
Simmer until it comes to a slow boil. Now cover and at medium heat
let it simmer for 5 minutes
or so till sauce thickens a little.
Note
: You need to add the cream as per the original recipe if you want a creamier sauce. I liked my low cal version though.
Meanwhile
cook Bow Tie Pasta
according to package directions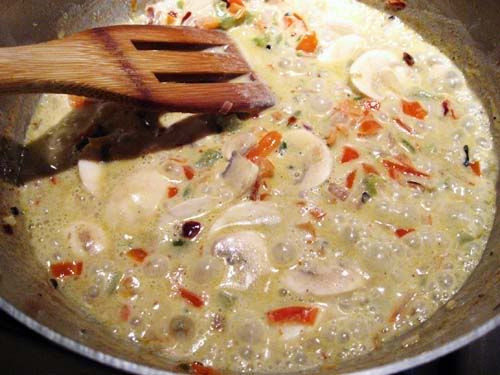 Back to the
sauce
.
Recipe said to add 4tbsp of Minced fresh basil which we skipped because no Basil @home.
Add about
1 cup of grated Parmesan chees
e to the sauce. Stir to mix.
Check for seasonings and adjust
salt and pepper
. This is a must, the adjusting.
Simmer sauce till it thickens. Should not be runny.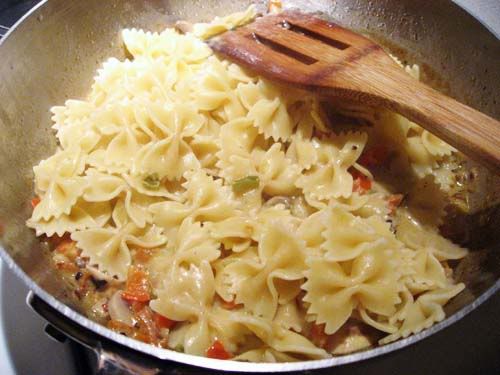 Drain and
add pasta to the skillet
tossing gently to mix the pasta with the sauce.I added the pasta gradually mixing to make sure that the sauce was enough to coat the pasta.
I did not use the whole box, about a cup of cooked pasta did not find its way into the sauce.
The
delicious Pasta is ready
, sitting there hot and pretty.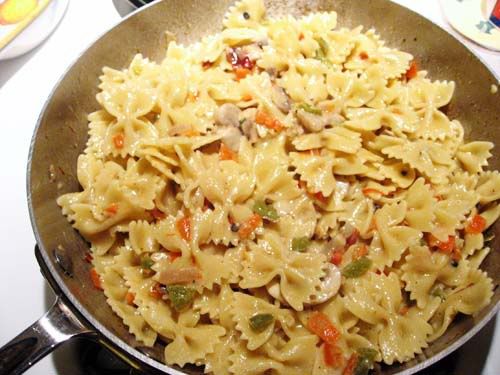 Eat it and fall in love. You deserve it. Maybe add some more grated Parmigiano. Life in December is all about good food.
I will send this in to join
Presto Pasta Night
started by Ruth and hosted by Rachel at
The Crispy Cook
.